17 stycznia 2022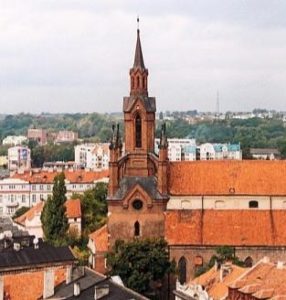 Webinar CeBaM 27.01.2022: Poland as a country of immigration and emigration: Ukrainian factory workers' perspectives on life and work in Kalisz and Płock
17 stycznia 2022 | Karolina Dziubata
Dear Colleagues,
Centre for Migration Studies at Adam Mickiewicz University in Poznań invites you to this month's webinar which will be given by Anne White (University College London) titled "Poland as a country of immigration and emigration: Ukrainian factory workers' perspectives on life and work in Kalisz and Płock".
Date: Thursday 27th of January 2022, 10:00 to 11:30 (CET), online (zoom)
Everyone is welcome and you can register here: https://forms.gle/FkhYYFsLKyR5YVpN8
Biogram
Anne White is M. B. Grabowski Professor of Polish Studies, University College London School of Slavonic and East European Studies. From January to June 2022 she is a NAWA Ulam Scholar based at the Centre for Migration Studies, Adam Mickiewicz University of Poznań. Her research interests are migration to and from Poland as well as social change in Poland more broadly. Her books include Polish Families and Migration since EU Accession, Invisible Poles and The Impact of Migration on Poland, co-authored with I. Grabowska, P. Kaczmarczyk and K. Slany.
Abstract
Poland is becoming a 'country of immigration', while retaining its strong identity as a country which people leave to live, work and study abroad. My current research project explores interrelationships between its immigration and emigration identities in the cities of Płock, Kalisz and Piła. I interview foreigners, mostly Ukrainians, as well as Polish return migrants. This presentation is based on fieldwork in Płock (2019) and Kalisz (2021). Most of my 52 Ukrainian interviewees were factory workers, and my presentation will discuss these research participants' thoughts about settling and family reunification in Poland, based on their experiences of life and work in the two cities. These experiences include contacts with Polish return migrants, often their co-workers in local factories. I argue that the Ukrainians' sense of living in a geographically mobile society, where migration is viewed by Ukrainians and Poles alike as an acceptable livelihood strategy, helps shape their thoughts about whether to make their futures in Poland.
Facebook page of the event: https://fb.me/e/245GZeNBy
This meeting will be conducted in English and will be recorded. By participating in this webinar hosted by the Centre for Migration Studies, you automatically agree to authorize recording of audio and visual content presented during the live event and consent to subsequent use of the recording in the public domain.
Best regards,
Centre for Migration Studies Adam Mickiewicz University