22 maja 2023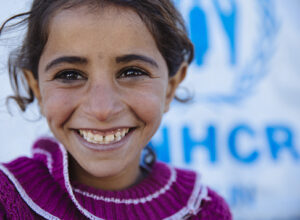 CeBaM webinar 25.03.2023: How UNHCR helps to save lives and build better futures for the millions of people forced to flee their homes
22 maja 2023 | Karolina Dziubata
Centre for Migration Studies at Adam Mickiewicz University in Poznań invites you to this month's webinar which will be given by Vanessa Moya  titled "How UNHCR helps to save lives and build better futures for the millions of people forced to flee their homes".
Date: 25th of May 2023, Thursday, 10.00 to 11.30 (CET), online (zoom).
Everyone is welcome and you can register here: https://forms.gle/wYo42Sx6URue8DcL8
Vanessa Moya has over 18 years of experience in the humanitarian field. She has worked for UNHCR since 2010 in various field Operations in North Africa, the Middle East and the Americas, including the Syria Regional Refugee Response, the Central Mediterranean and the Iraq situations. Ms. Moya has joined UNHCR in Poland as Senior Protection Officer in June 2022. Prior to joining UNHCR, she has worked for NGOs at country and HQ level. Ms. Moya holds a Master's degree from the Universitat Autonoma de Barcelona in International Relations, a postgraduate diploma in International Development from the Universitat Oberta de Catalunya and a Bachelor of Arts degree in Arabic from the Universitat de Barcelona. She speaks seven languages.
Facebook page for the event: https://fb.me/e/2KneuZ9bC
The meeting will be led in English and will be recorded. By participating in this webinar hosted by the Centre for Migration Studies, you automatically agree to authorize recording of audio and visual content presented during the live event and consent to subsequent use of the recording in the public domain.
We apologise for such a late invitation due to difficulties on the side of the invited speakers.
This webinar is a part of the CeBaM webinar series, where every month we invite you to a meeting with migration researchers from Poland and abroad.